We are operating a school for dogs and their people.
Our master instructors and veterinarian specialized in animal behavior
provide latest training programs based on positive reinforcement theory.
In urban areas, there are many restrictions on living with dogs.
And it tends to be very stressful for dogs to live in the city.
Our aim is to make you and your companions' daily life
more enjoyable and more comfortable.

We are offering following group lessons for dogs who do not have serious problem behavior.
Our basic training program is consisted of Beginner Class 1, 2 and Step-up Class, which will be
18 sessions all together. I f your dog is puppy under 16 weeks old, additional 1 to 2 months is required for Puppy Class.
We are also offering private lessons and consulting sessions for solving problem behavior.
We regularly use Japanese language for lessons,
however bilingual/translation (English Only) class may be arranged upon request.
Please call or e-mail us for making appointment to observe one of our classes.
| | | |
| --- | --- | --- |
| Puppy Course | | |
| Puppy Class | Under 4 months old: 5〜10 sessions | (Optional Puppy Class) |
| Basic Class 1 | 5 Months Old or elder: 6 sessions | Basic Class 1 |
| Basic Class 2 | | |
| | | |
| | | |

1) Puppy Class
For puppies under 16 weeks old

10 puppy classes (please attend 5 classes minimum)
*If you wish to attend more than 10 classes, additional fee would be JPY5,250 per class.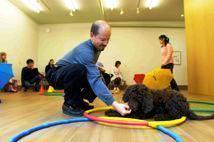 Puppy classes are drop-in system and held on every Tuesday (10:15 - 11:00) and Thursday afternoon. It is mainly focused on socialization of puppies and introduction to a new life with your puppy.
Your puppy may be able to attend a class 10 days after the first vaccination at your home. (First vaccination at breeders or pet shops may not be counted unless all the vaccination program is completed.) At around 20 weeks old they will be proceeding to Basic Class 1.
We also offer home visit sessions. Please ask for more information.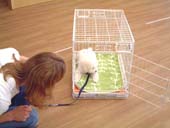 2) Basic Class 1
First step pf novice class for dogs over 5 months old
90 minutes lecture and five 60 minutes classes once a week.

First class is the lecture for dog owners, in which you will learn how dogs learn desirable and undesirable behaviors, managing dogs' daily life and considering participants' needs. You and your dog will learn basic manners such as sit, down, stand, stay and come.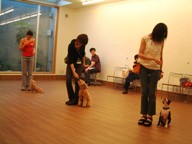 3) Basic Class 2
Second step of novice class
Six 60 minutes classes once a week.

This class focuses on your dog's reliability in responding to your requests on the first try, as well as reliability and focus in the presence of distractions.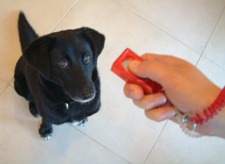 4) Basic Class 3
Classes for brushing up obedience training using Clicker.
Six 60 minutes classes once a week.

*Total training fee from Puppy Course will be JPY194,400 and
JPY145,800 from Basic Course 1.
*We do not accept credit cards. Please pay by cash or by bank wire.


5) Private lessons and consulting sessions
For solving serious problem behavior would be available upon request.
Private sessions may be appropriate for clients who may not be able to attend the group lesson same day same time every week.
We usually recommend you to reserve 2 hours for the first session.

Fee is JPY12,960 per hour.


We are recommending to read "After You Get Your Puppy" by Dr. Ian Dunbar
as a subtext book for our classes.
*You can download free PDF from Dog Star Daily site.
For inquiry, please feel free to contact us by e-mail or call our bilingual staff.
We look forward to seeing you and your canine family at our classroom in the nearest future.

Canine Unlimited, Inc.
Telephone 080-2596-1670 E-mail info@canine.jp

*We have closed our school in Himonya.
But we are offering group lessons at other place in Tokyo and home visit sessions.